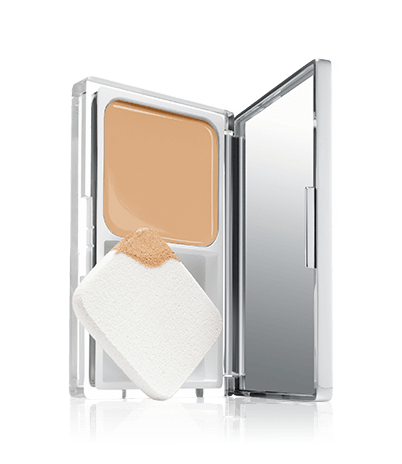 Clinique Moisture Surge CC Compact Cream Foundation SPF 25
New for Spring 2014
Price: $38
Clinique jumped on the BB & CC Cream bandwagon a while ago, but their new Moisture Surge CC Compact is their first solid cream CC or BB.
Clinique Moisture Surge CC Compact is essentially a cream foundation with sunscreen. Clinique claims that Moisture Surge CC will deliver all day hydration and a lightweight, natural finish that will even skintone via their special "colour correcting optics", (also known as pigments.)
I was initially excited to try Clinique's new Moisture Surge CC Compact because its a cream foundation with sunscreen (and that's not all that common for whatever reason), but I didn't get my hopes up too high. Clinique's Even Better Cream Compact was a heavy disappointment (the shade range is awful and the texture is just odd) and, while there are some minimal improvements, I'm sorry to say that the Moisture Surge CC follows suit.
Moisture Surge CC Cream Compact is basically a standard cream/emollient foundation. Its really not anything overly spectacular. The texture and consistency is average, its thicker than something like Mally Ultimate Performance Professional Full Coverage Foundation, but thinner than something like Mac Full Coverage Foundation. The finish is somewhat natural if you have normal-dry skin, but if you have oily skin the "natural finish" will only exacerbate oily areas, and you could very well lose sun protection if the makeup slides off your face. Those with oily skin should consider a true cream-powder foundation formula and avoid emollient or "moisturizing" formulas.
The shade range of Clinique Moisture Surge CC Cream Compact is just not great. It's available in 6 shades which isn't nesessarily a bad thing, but when you actually see the shades.....well, they stink. I have swatched 4 of the 6 shades below, and there is a lighter shade called Very Light or something but I suspect that it has very strong pinky beige undertones since the other shades most certainly do. For a high end cosmetic company that specializes in "matching undertones", you would think that they would maybe consider creating some shades that are somewhat natural looking and lack the distinct pink, beige, and in some cases gray, undertones you see with the Moisture Surge CC Compact. Please do note, that the shades look far more unnatural in person than they do in the pictures and I really can see them suiting many peoples' needs properly, even those with cool or pink undertones.
The shades that are available, will suit light-medium/deep skintones, (provided that the undertones do match) and once again, Clinique seems to have totally forgotten those of us with fair or deep skin. The irony, is that
Cliniques Liquid Moisture Surge CC Cream
is available in 12 or 13 shades and the majority of those are well done but the Liquid Moisture Surge only offers Sheer-Light Coverage and allows far more flexibility with shade matching than a medium coverage cream foundation, especially a medium coverage cream foundation that has to be applied somewhat heavily to achieve the advertised sun protection!
Wear time will vary depending on your skintype, but if you plan on relying on Moisture Surge CC Compact as your only source of sun protection you should definitely set it with powder (preferably with SPF) so that your sunscreen doesn't slide off your face- even if you have drier skin.
Note:
While there are many emollient properties in Clinique's Moisture Surge CC Cream Compact and it will offer some hydration for those with dry skin, it is absolutely not a replacement for your normal skin care regimen since it lacks sufficient anti oxidants or cell communicating ingredients.
Clinique claims that the Moisture Surge CC Cream Compact is oil free but its not. Technically it may not have any ingredients called "oil" in it, but if you were to eat it the fat content would be through the roof as its an extremely rich and emollient formula. Technically, Butter is oil-free but you wouldn't want to smear that on your face if you're break out prone, so keep that in mind, be cautious of any oil-free claims, and look for a formula like
Mac Pro Longwear Compact Foundation.