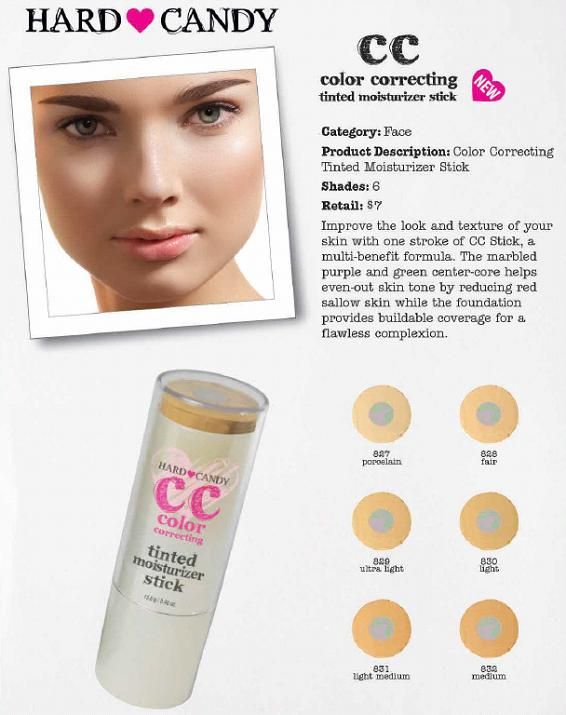 Price: $7 for .5 oz
Approx $.50 per gram
CRUELTY FREE!!!
Following the current market trends, Hard Candy has released a Tinted Moisturizer Stick. Essentially it is a stick foundation with a "color correcting" green core, the purpose of which is to diffuse redness seamlessly and leave no noticeable trace of green.
Hard Candy CC Tinted Moisturizer Stick certainly succeeds with not leaving any green streaks on your face, especially once blended.
What is ironic, is that the Hard Candy Tinted Moisturizer Stick is marketed as a tinted moisturizer when it is certainly anything but. It is better considered a primer or light-medium coverage foundation as those who attempt to use only this as a moisturizer will be sorely disappointed.


Hard Candy CC
Tinted Moisturizer Stick
Swatches of Shades:
Porcelain, Fair, Ultra Light, Light
Hard Candy Tinted Moisturizer Stick
CC Color Correcting Foundation
Swatches of Shades
Medium & Ultra Light
Is it worth it? Considering you get 14 grams of product instead of the usual 6-9 grams, and that Stila & Tarte both sell their versions for $38; YES. For only $7, it is definitely worth checking out, just be cautious if you have very dry skin, (as you should be with many oil absorbing products,) and moisturize well with an SPF moisturizer before applying Hard Candy CC Stick!
Hard Candy CC
Tinted Moisturizer Stick;
Swatches of Shades:
Porcelain, Fair, Ultra Light, Light
Hard Candy
Color-Correcting CC
Tinted Moisturizer Stick
Swatches of Shades
Porcelain & Ultra Light