Mally Liquid Face Defender Blush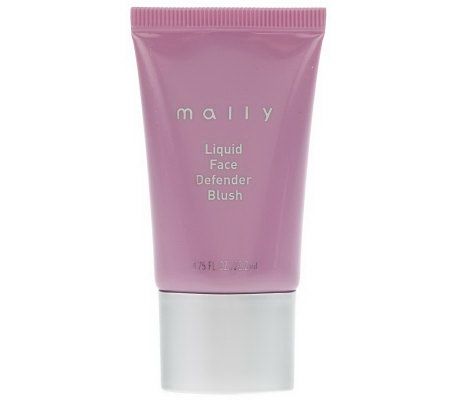 Price: $18-$35 for .75 ounces
($22-$43 per ounce)
CRUELTY FREE!!!
Mally took the beauty world by storm with the release of her
Poreless Face Defender
a few years ago and she has since released several sister-products with her Liquid Face Defender Blush being one of Mally's most recent creations.
Mally Liquid Face Defender Blush promises color-true, all day performance in a blendable formula that will leave your skin poreless and perfect and surprisingly enough, these claims actually have merit!
Liquid Face Defender Blush is formulated with the same silicone used in the original
Mally Poreless Face Defender
and the ingredients of the Face Defender Blush are almost identical to Mally's Liquid Face Defender. This formula ensures a natural looking, matte finish with none of the shimmer and glam that is typically seen with blushes and the liquid silicone formula indeed remains color-true and lasts longer than most powder blushes will. (This is especially true for dry or oily skin.)
So far, Mally Liquid Face Defender Blush probably sounds like the perfect Blush and in many respects it is but there's always a but...
In this case, the "but" is pretty minimal and that is simply that it may take some getting used to to apply Mally Liquid Face Defender Blush flawlessly. While the formula does blend and build BEAUTIFULLY, it can be hard not to over-do-it with application, especially if you're transitioning from a powder blush.
The trick is to make sure that you apply Face Defender Blush in VERY thin layers. Don't go globbing it on to your sponge thinking you can blend it out after. You can, but rubbing it could smudge or remove your foundation so you want to dab & pat the Face Defender Blush on. It's actually just like you apply the original
Poreless Face Defender
so if you've used that with success then Liquid Face Defender Blush will be an absolute breeze!
Mally Liquid Face Defender Blush is available in a total of four shades ranging from a bright pink to a brick red. (Between the three venues that sell it [Mally's Website, QVC, and Ulta], all four shades seem to still be available, although each distributor has only 2-3 of the shades and both Ulta and Mally have marked down Liquid Face Defender Blush so it may be on the discontinue list.)
The shades are all neutral and well chosen with two suiting fair-medium skin and two being ideal for medium-deep skin. (It would be REALLY nice if Mally formulated some contour shades with this same formula. The matte finish would be ideal for shadowing different areas of the face!)
If you haven't tried Mally Liquid Face Defender Blush you should definitely give it a go, especially if you can get it at the discounted prices which will end up costing you about $20 for at least a year's worth of blush, just remember no to rub it and to dab it and you should be fine!
***Note: L'Oreal has just released their impostor Mally Liquid Face Defender Blush with the L'Oreal Visible Lift Blur Blush. While the formula is semi-similar. the shades and performance pale in comparison to Mally's Face Defender Blush so if you have tried L'Oreal's version and despised it you may actually love Mally's.***
Mally Liquid Face Defender Blush, Swatches of Shades
Passionfruit, Carnation, Mimosa, Buff,
Mally Liquid Face Defender Blush, Swatches of Shades
Passionfruit, Carnation, Mimosa, Buff,